Pasadena Family Dentistry Offers Fast Emergency Dentistry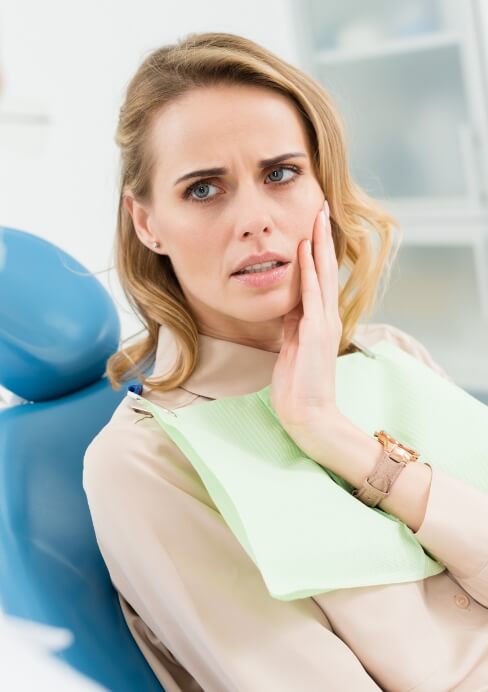 Dental emergencies tend to be sudden, frightening, and very inconvenient. Maybe your child has cracked a tooth while having fun on the playground, or maybe a severe pain has cropped up in a back tooth after chewing on something particularly hard. Whatever your family's situation is, you can trust the team at Pasadena Family Dentistry to provide compassionate, effective relief. Please don't hesitate to contact us here in Pasadena, TX today if you're in need of an emergency appointment. Dr. Holmes, Dr. Revel, and Dr. Lowery see urgent cases as soon as possible, and often on the very same day as your call.
What can you do in the interim to help improve the situation, though? Here are some helpful tips for how to manage some of the most common dental emergency cases we see before you're able to reach our office:
---
Knocked-Out Tooth
If you or a family member has knocked out a permanent ("adult") tooth, time is truly of the essence when it comes to determining whether or not reattachment is possible. If you still have the tooth, gently rinse any foreign debris from the surface (while leaving all connected natural tissue untouched and intact) and then place it back into its original spot within the mouth, holding it there. If this can't be done, put the tooth in a container of milk and bring it with you to our practice right away.
---
Cracked Tooth
Rinse your mouth with warm water in order to clean the injured area. Facial swelling is likely to occur after an injury like this; cold compresses against the face can help reduce the effect as you make your way to our office.
---
Painful Toothache
The pain may be being caused by something stuck between the teeth. Floss and rinse thoroughly in order to dislodge any foreign debris; if the discomfort persists, please reach out to our team. You may take painkillers in the interim, but do NOT place them directly on the tooth or gum tissue, as it may cause a burning sensation.
---
Emergency Dentistry FAQ
Time waits for no one during a dental emergency, so if you have any concerns about the service, it's better to ask those questions before a real issue strikes. Here, we've answered several inquiries that patients often bring to their emergency dentist in Pasadena. You may have some concerns of your own, so don't be shy about getting in touch with us today; knowledge is power when it comes to saving your teeth!
How Much Will My Emergency Visit Cost?
This may very well be the first thing you ask, but unfortunately there is no simple answer that we can give until after we've examined your teeth, gums, and the rest of your oral cavity. Just as there are many kinds of dental emergencies, so are there many possible solutions for treating them – and just as many varied prices. Don't worry, though; during your appointment, we'll create an accurate, reliable estimate of the cost while also taking insurance and other financing options into account so that you can be confident about receiving affordable care.
How Can I Alleviate Pain from a Dental Emergency?
Sometimes you'll have to wait for an appointment but will need a way to ease the pain in the meantime, at least temporarily. Ask your dentist what kind of over the counter painkillers are okay to use. (Some, like aspirin, might cause further problems if they touch the gums.) If there is swelling in addition to your discomfort, an ice pack can help as long as you only apply it for a few minutes at a time. Also, it likely goes without saying, but if you have to eat before your appointment, chew with teeth that are not being affected by the issue.
When Should I Go to the ER?
A few oral injuries require immediate attention from an urgent care physician. Call your local emergency room if you suffer from:
A broken or fractured jaw
Swelling or any other issue that's preventing you from breathing easily
Uncontrollable bleeding
Any other kind of life-threatening emergency.
Outside of the above cases, you should get in touch with our practice as soon as possible if your teeth have been injured or if you're suffering from some kind of oral pain. The care we can provide during an emergency will often be less costly than what you're likely pay at a hospital emergency room.
Will I Need an Extraction?
Extraction is always the last resort during emergency dentistry. It's better for you to preserve all your natural teeth than it is to lose one; otherwise, your other teeth could move out of alignment, leading to bite problems and making it more difficult to brush and floss well.
There are, sadly, circumstances where an extraction is the only option. In particular:
A tooth that has been too badly damaged to be restored by a crown will likely have to be removed to protect your other teeth.
Impacted teeth that don't erupt properly are extracted so that the don't damage the roots of other teeth.
If you need orthodontic treatment but there isn't enough room in your mouth for the adjustments, an extraction can create that extra space.