Emergency Dentist – Pasadena, TX
Fast & Compassionate Urgent Dental Care
Dental emergencies tend to be sudden, frightening, and very inconvenient. Maybe your child has cracked a tooth while having fun on the playground, or maybe severe pain has cropped up in a back tooth after chewing on something particularly hard. Whatever your family's situation, you can trust the team at Pasadena Family Dentistry to provide compassionate, effective relief. Please don't hesitate to contact us today if you need an emergency dentist in Pasadena, TX. Dr. Holmes, Dr. Revel, and Dr. Lowery see urgent cases as soon as possible, and often on the very same day as your call.
Why Choose Pasadena Family Dentistry for Emergency Dentistry?
Same-Day Emergency Appointments Available
Dentist That Only Recommends What You Need
Multiple Options for Dental Sedation
What to Do in a Dental Emergency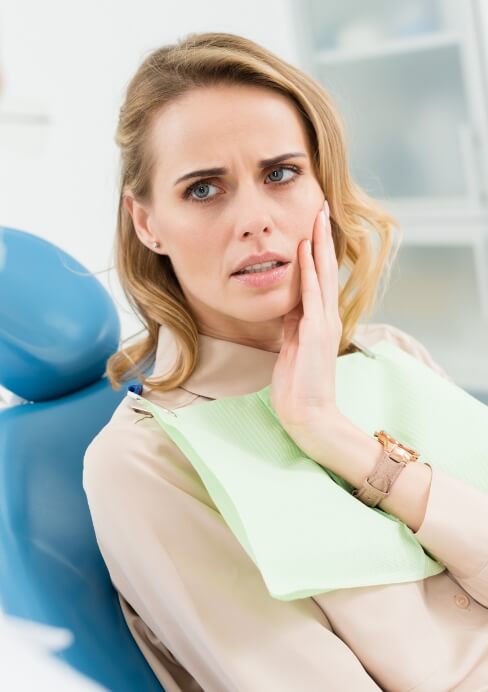 Step 1: Give us a call right away! As soon as it's safe to do so, give us a call. We'll do everything we can to schedule you for a same-day appointment, and one of our team members will walk you through how to handle your situation until you can reach us.
Step 2: Arrive for your emergency exam. Your Pasadena emergency dentist will see you right away once you arrive. After examining you and alleviating any serious pain, they'll go over which treatments they recommend, including their estimated length and price.
Step 3: Get the fast, professional care you need! Once you and your emergency dentist have created a treatment plan, our experienced team will get to work right away. Whether you need a filling, dental crown, tooth replacement, or something else entirely, we'll always make your safety and comfort our top priorities.
How We Treat Dental Emergencies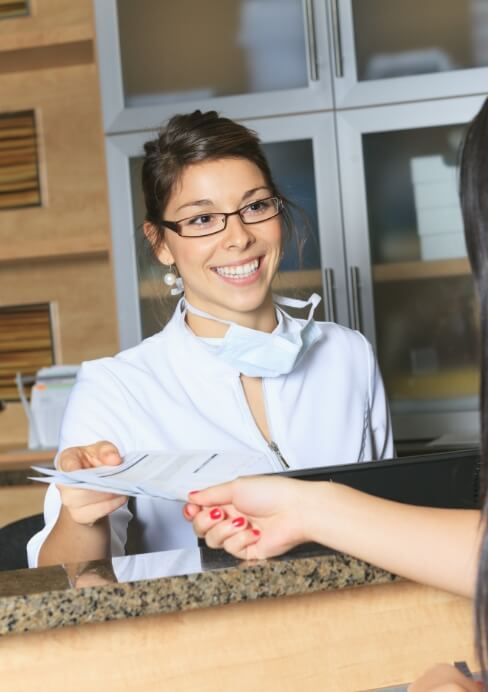 The way we treat dental emergencies depends on the situation. For example, sometimes a filling is enough to treat the decay that's causing tooth pain. In more serious cases, though, a root canal might be required instead. We can only give you an idea of what treatments will be needed once we've had a chance to examine your mouth. We'll be completely transparent about why we're recommending certain services, and we'll answer any questions you have so that you can be confident when deciding what your smile needs.
The Most Common Dental Emergencies
Dental emergencies come in all shapes and sizes. Some are easy to identify, such as a broken or knocked-out tooth. Other situations leave patients wondering if they should wait and see if the problem resolves itself, like a searing toothache or very sensitive teeth. If you are unsure if your situation warrants emergency dental care, or if you're experiencing any worrisome dental symptoms, we encourage you to give us a call right away! Over the phone, we'll assess how quickly your situation needs to be treated and schedule your appointment accordingly. In the meantime, here are some helpful tips for how to manage the most common dental emergency cases we see.
Understanding the Cost of Dental Emergencies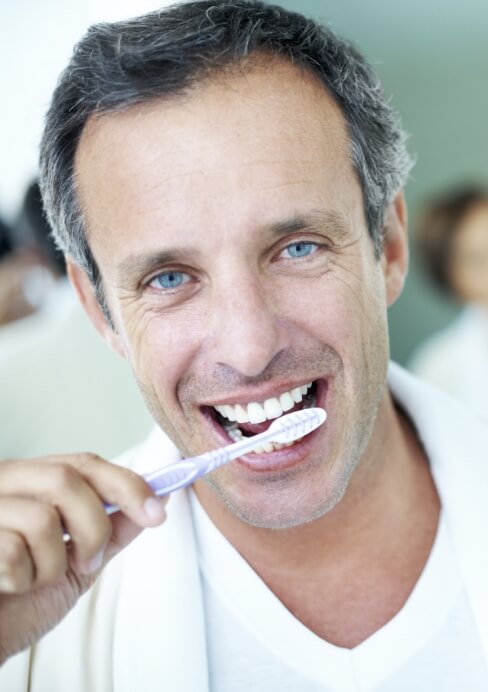 No two smiles are the same. Because of that, the amount you'll have to pay for emergency dental care will vary significantly based on what unique problems you're experiencing. At Pasadena Family Dentistry, we'll conduct an oral examination and only recommend services we think are necessary for your relief. Our team will also thoroughly explain the pricing information beforehand so that you know exactly what to expect – no surprises here!
Every Dental Emergency is Unique
Believe it or not, visiting your emergency dentist in Pasadena is relatively inexpensive. During your appointment, our team will assess your condition to determine which treatments are needed to get your smile back on track. Since the specific procedures you need will vary depending on the type of emergency you're experiencing, it's impossible to provide you with a cost estimate until you come in for an exam. Rest assured – we'll explain all of your options and find one that best fits your budget.
Taking Care of Your Smile Can Save You Thousands
Even though some dental emergencies are unavoidable, most of them are the result of untreated infection or damage. Fortunately, you can keep your smile safe by investing in regular preventive dental care and taking proper care of your teeth and gums at home. As a result, you can potentially save thousands of dollars over the years on urgent dental care. Another way to save money is by visiting your emergency dentist in Pasadena as soon as you notice something wrong with your mouth. By addressing the issue early on, you can avoid needing a more complex and expensive procedure later on.
Does Dental Insurance Cover Dental Emergencies?
Yes, most dental insurance plans offer some form of coverage for dental emergencies. Many will fully cover at least one necessary emergency exam per year. Additionally, services associated with hurting teeth (i.e., root canal therapy, extractions, dental crowns) are eligible to receive 50-80% of coverage in most cases. Of course, every policy is unique, which is why you should confirm the details of your coverage with your insurance provider before committing to anything. Our team is more than happy to help with that step if needed.
Other Options for Making Dental Emergencies Affordable
We understand that not everyone has dental insurance. Fortunately, we offer additional financing options to make dental bills much easier to manage, such as:
CareCredit Financing – This option allows you to split up the total cost of your treatment into smaller monthly installments. They offer multiple low-to-no interest plans as well, meaning you're guaranteed to find something that works best with your budget.
In-House Dental Savings Plan – For either a monthly or annual fee, you can get regular preventive dental care and save 15% on all other treatments.
Are you experiencing a dental emergency in Pasadena? Don't hesitate to contact our team for assistance! We'll get you the prompt relief you deserve while keeping your total expenses as low as possible.
Keys to Preventing Dental Emergencies
Not every dental emergency can be avoided – but it is possible to make them much less likely to happen. To protect your smile, you can:
Brush and floss twice every day.
Visit your dentist once every six months for a checkup and cleaning.
Get a mouthguard if you play any kind of sport or grind your teeth at night.
Break bad habits that can damage teeth, such as chewing your fingernails.
Using tools to open packages instead of your teeth.
Dental Emergency Frequently Asked Questions
Time waits for no one during a dental emergency, so if you have any concerns about the service, it's better to ask those questions before a real issue strikes. Here, we've answered several inquiries that patients often bring to their emergency dentist in Pasadena. You may have some concerns of your own, so don't be shy about getting in touch with us today; knowledge is power when it comes to saving your teeth!
How Much Will My Emergency Visit Cost?
This may very well be the first thing you ask, but unfortunately, there is no simple answer that we can give until after we've examined your teeth, gums, and the rest of your mouth. Just as there are many kinds of dental emergencies, so are there many possible solutions for treating them – and just as many varied prices. Don't worry, though; during your appointment, we'll create an accurate, reliable estimate of the cost while also taking insurance and other financing options into account so that you can be confident about receiving affordable care.
When Should I Go to the ER?
A few oral injuries require immediate attention from an urgent care physician. Call your local emergency room if you suffer from:
A broken or fractured jaw
Swelling or any other issue that's preventing you from breathing easily
Uncontrollable bleeding
Any other kind of life-threatening emergency
Outside of the above cases, you should get in touch with our dental office as soon as possible if your teeth have been injured or if you're suffering from some kind of oral pain. The care we can provide during an emergency will often be less costly than what you're likely to pay at a hospital emergency room.
How Can I Alleviate Pain from a Dental Emergency?
Sometimes you'll have to wait for an appointment but will need a way to ease the pain in the meantime, at least temporarily. Ask your dentist what kind of over-the-counter painkillers are okay to use. (Some, like aspirin, might cause further problems if they touch the gums.) If there is swelling in addition to your discomfort, an ice pack can help as long as you only apply it for a few minutes at a time. Also, it likely goes without saying, but if you have to eat before your appointment, chew with teeth that are not being affected by the issue.
Do I Need a Tooth Extraction?
Extraction is always the last resort during emergency dentistry. It's better for you to preserve all your natural teeth than it is to lose one; otherwise, your other teeth could move out of alignment, leading to bite problems and making it more difficult to brush and floss well.
There are, sadly, circumstances where extraction is the only option. In particular:
A tooth that has been too badly damaged to be restored by a crown will likely have to be removed to protect your other teeth.
Impacted teeth that don't erupt properly are extracted so that they don't damage the roots of other teeth.
If you need orthodontic treatment but there isn't enough room in your mouth for the adjustments, an extraction can create that extra space.