Dental Implants – Pasadena, TX
Regain Strong, Lifelike Teeth
Today, there are several effective options out there for dental patients who are struggling with the loss of one or more natural teeth. Here at Pasadena Family Dentistry, though, we believe there's one that stands out above the rest – dental implants. When compared to your natural teeth, dental implants in Pasadena, TX are virtually identical in feel, function, and appearance. They're also designed to restore more chewing power, letting you enjoy all of your favorite foods. If you'd like to learn more about this transformative procedure or schedule your first appointment, please don't hesitate to give us a call!
Why Choose Pasadena Family Dentistry for Dental Implants?
Partnered with Local Implant Experts
Lifelike, Long-Lasting Restorations
Compassionate Team Members Who Remain By Your Side
What Are Dental Implants?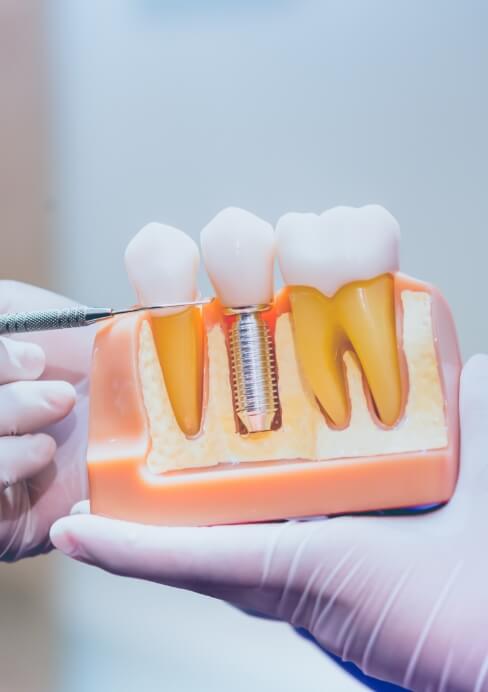 While traditional dentures and dental bridges only bring back the parts of the teeth that you can see, dental implants go a step further by replacing the root structure underneath the gums. The implant itself is a biocompatible post – usually made from titanium – that is surgically placed into the jaw to recreate the root of a lost tooth. Then, the implant actually merges with the surrounding tissue and bone. This process, called osseointegration, is what allows dental implants to provide such a lasting and reliable foundation for a crown, bridge, or denture to be secured on top. Essentially, dental implants rebuild missing teeth from the roots up, which is why they're often considered the gold standard of tooth replacement.
The 4-Step Dental Implant Process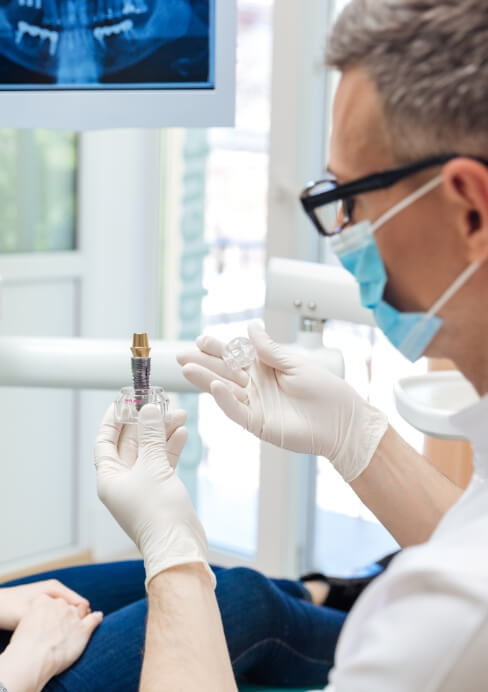 Dental implants have the potential to last a lifetime, but to create this foundation, they require a unique multi-step process. This process includes 4 main steps: initial consultation, dental implant surgery, osseointegration, and the placement of your implant restorations. For the surgical portions of the treatment, we partner with local implant specialists to ensure your procedure is as comfortable and successful as possible. We'll outline your tooth replacement process for you during your consultation. Until then, read on to learn more about how dental implants work in Pasadena.
Initial Dental Implant Consultation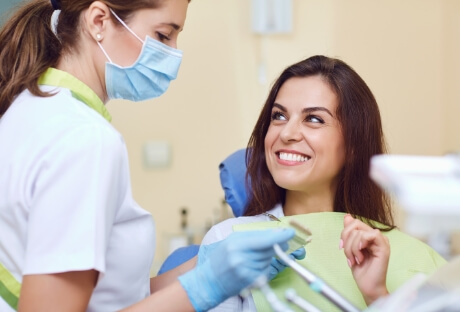 One of our experts will review the condition of your oral health and previous medical history to see if you're a good candidate for implants. If necessary, we may recommend preliminary procedures like bone grafting, gum disease treatment, or tooth extractions to prepare your mouth. Once you're healthy and ready for implants, we'll be able to create a custom plan based on your needs, which will include information like the estimated cost and timeline for your treatment.
Dental Implant Surgery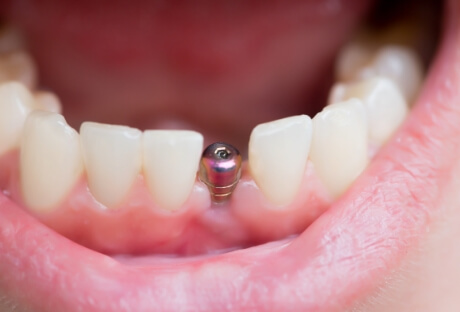 We partner with a nearby implant dentist in Pasadena to ensure the success of your surgery. These professionals specialize in the placement of dental implants, giving you peace of mind going into your treatment. First, they will numb your mouth and provide you with necessary sedation or anesthesia. Then, they will make a small incision in the gums to access the bone. Once the implant is placed, they will close the gums and mount a protective cap to protect your implants and maintain your smile's full appearance.
Dental Implant Osseointegration & Abutment Placement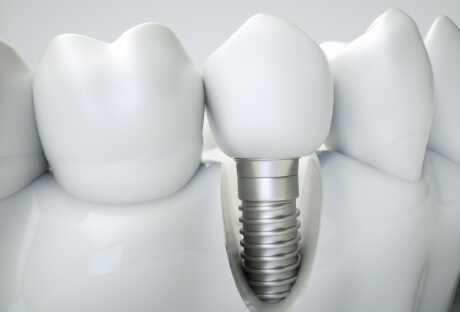 The next step is a process called osseointegration, which allows the implant to fuse to the jawbone and become a permanent part of your body. This healing period can take anywhere from 3 to 6 months. While this may seem like a long time, osseointegration is what gives dental implants in Pasadena all their unique health and lifestyle benefits. Next, you'll have one more minor procedure where abutments (small connectors) are placed on the implants. After healing for the next few weeks, we will create your final restoration based on impressions of your mouth.
Delivery of Dental Implant Restorations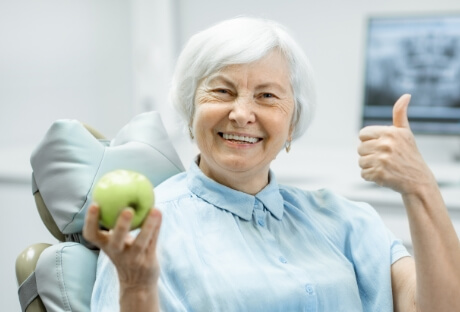 Last but not least, you'll return to our dental office for your final restoration. After completing the steps above, this is an exciting time! We will place a crown, bridge, or denture based on the number of teeth that you're missing. Before sending you on your way, our team of experts will always make sure that your smile feels comfortable and looks exactly how you envisioned. From there, all that's left to do is to enjoy your newly full, strong, and beautiful set of teeth.
Benefits of Dental Implants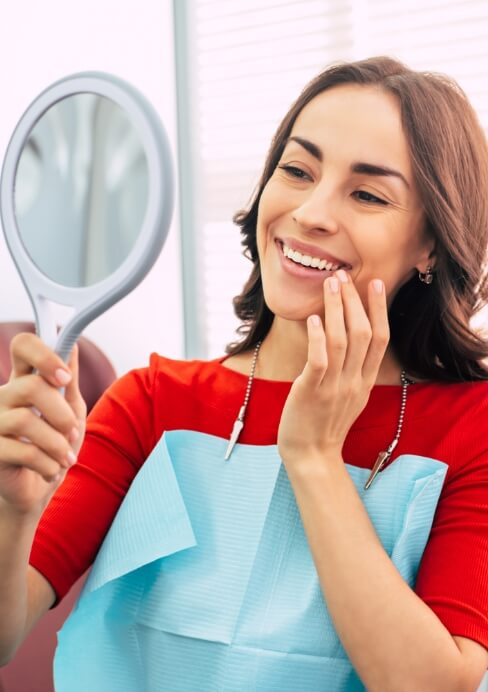 Recreating every part of a missing tooth gives dental implants countless advantages over traditional tooth replacements. For example, they make it easier to chew foods that would be difficult to eat with dentures. They can also last several times longer than dentures or bridges, which might end up saving you money in the long run. Basically, once you rebuild your smile with dental implants, it will be as if you had never lost any teeth in the first place! Here are just a few of the benefits of dental implants in Pasadena compared to other tooth replacement options.
Day-to-Day Benefits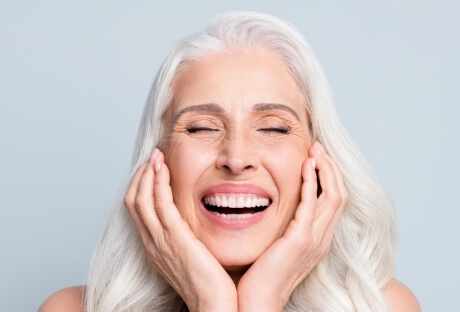 More chewing power – Because they're firmly embedded in your jaw, the biting and chewing strength that you get with dental implants are comparable to that of your natural teeth. It will be easier than ever to enjoy nutritious, delicious foods!
Lifelike pearly whites – Whether we restore your implants with a crown, bridge, or denture, rest assured that your replacement teeth will resemble the ones you used to have almost perfectly.
Boosted confidence – You won't have to worry about your teeth shifting or falling out and creating potentially embarrassing situations.
Easy daily care – Cleaning dental implants in Pasadena doesn't require any specialized pastes or brushes. All you have to do is brush and floss them like real teeth.
Health Benefits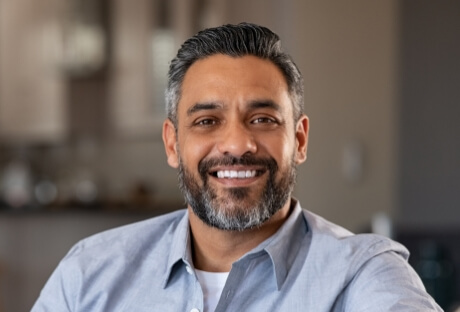 No jawbone loss – Dental implants are the only method of tooth replacement that brings back the roots of your teeth and stimulates your jaw to prevent the bone loss that occurs after teeth have been missing for a while. Not only does this prevent your face features from becoming wrinkled and sunken, but it also helps your jawbone support your other teeth more effectively.
No damage to remaining teeth – A traditional dental bridge requires two of your natural teeth to be permanently modified for support. Dental implants, on the other hand, are completely self-reliant, so you won't need to sacrifice any of your remaining tooth structure.
No gum sores or irritation – Regular dentures can rub up against your gum tissue if they don't fit properly, causing sores that may also increase the risk of infection. Implant dentures eliminate this issue by staying in place and not irritating your gums.
Long-Term Benefits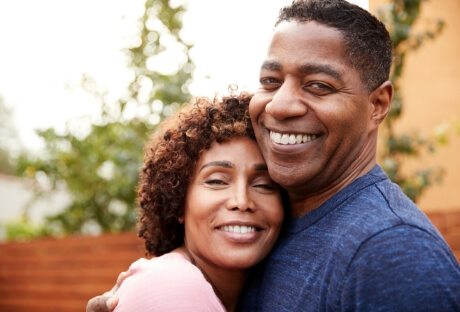 High success rate – When placed by a trained implant dentist in Pasadena, dental implants are successful in about 95 to 98 percent of cases.
Lasting results – As long as you take good care of them, your dental implants can easily bring you 30+ years of healthy smiles. In fact, many dental implant patients can retain their new teeth for the rest of their lives!
Long-term savings – Dental implants might seem expensive at first, but compared to bridges and dentures, implants are actually the most cost-effective option over time. You won't have to purchase special maintenance products, and your teeth can last for decades, as opposed to the average of five to ten years of traditional prosthetics.
Who Dental Implants Can Help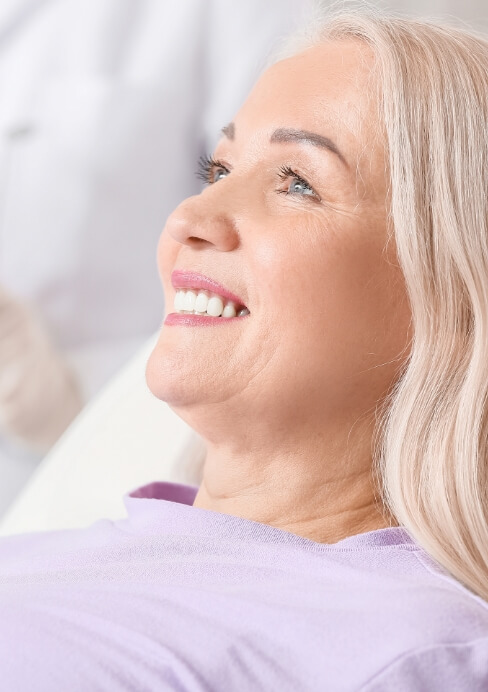 No matter how many teeth you have lost, dental implants are versatile enough to bring back your pearly whites. Depending on your oral health and personal preferences, we may recommend one of the following solutions:
Missing One Tooth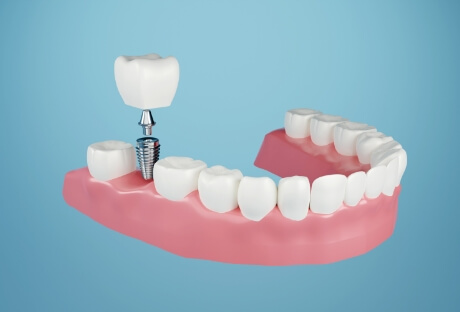 For a single missing tooth, we can place an all-ceramic dental crown over an individual implant so that surrounding natural teeth can remain healthy and unaltered.
Missing Multiple Teeth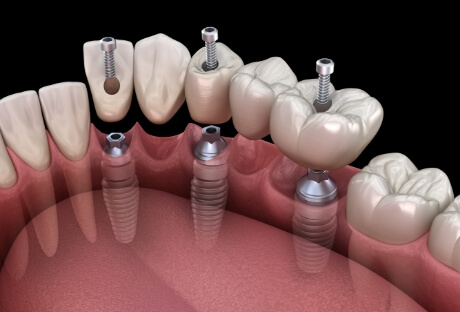 Rather than replacing each tooth with its own implant, a small number of posts can support a dental bridge or partial denture.
Missing All Teeth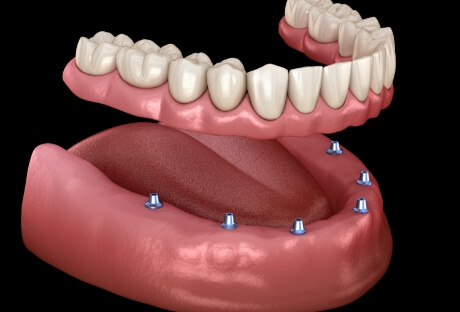 By securing a full denture onto an average of four to six implants, patients who have lost all of their teeth can enjoy a complete smile again – all without the annoying slippage of traditional dentures.
Understanding the Cost of Dental Implants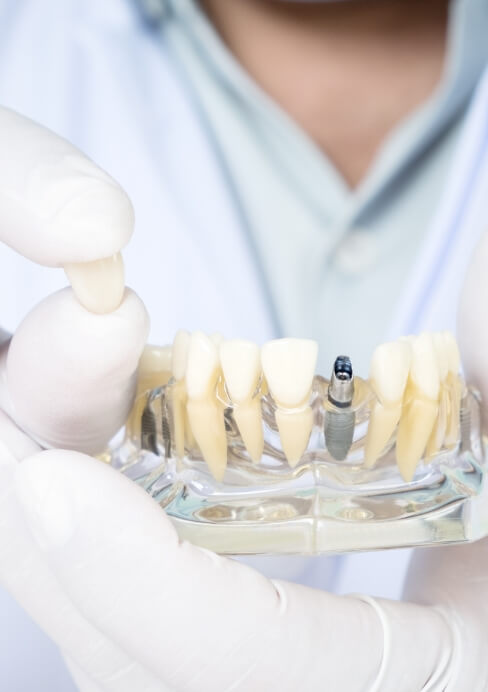 Due to the personalized nature of dental implant treatment, there is no one-size-fits-all cost for dental implants. The price of your new smile will depend on various factors, such as how many teeth you're replacing and any preliminary treatments you might need beforehand.
At Pasadena Family Dentistry, we strive to provide affordable dental care, which is why we welcome most dental insurance plans. We also offer low-interest financing through CareCredit and Lending Club, and we even have our own in-house membership plan to help you save.
Read on to learn more about the cost of dental implants in Pasadena and some of your options for making your new smile as affordable as possible.
Preliminary Treatments & Dental Implant Surgery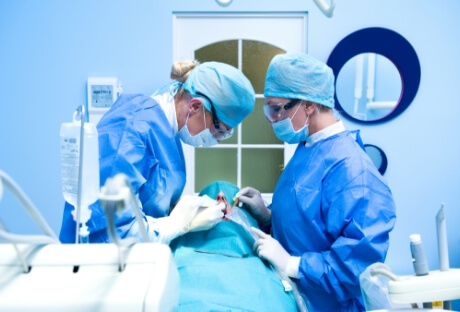 Not every patient is a good candidate for dental implants initially. You may need to complete a bone graft or gum disease therapy beforehand to ensure your new smile has the healthy foundation it needs. Naturally, any preliminary treatments you need will add to the overall cost. Additionally, your dental implant surgery with one of our trusted local surgeons will incur a cost of its own, as will the need for any services like sedation dentistry.
The Parts of Your Dental Implant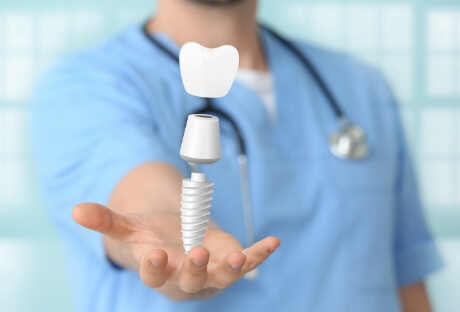 Next, let's consider how your new dental implants themselves will factor into the final price:
Number of dental implants. It goes without saying that the more dental implants you need, the higher the cost will be.
Type of restoration. A single crown will be less expensive than a full denture, but a full denture is a more cost-effective choice than replacing many missing teeth with individual implants.
Size or material of your dental implants. Implants can vary in size and shape depending on your jawbone density and where they're placed in the mouth, and they can be made of different materials like titanium or zirconia. These details will play a role in the price of your treatment.
Brand of your dental implants. Several different brands make dental implants. If you'd like to learn more about where your dental implants are coming from and their unique benefits, feel free to ask!
How Dental Implants Can Save You Money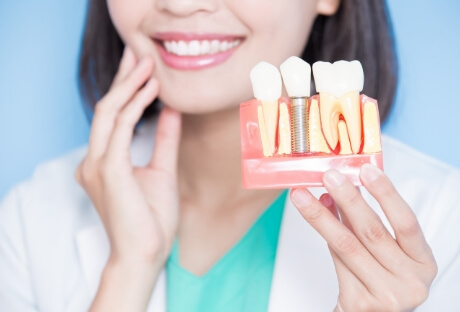 While dental implants initially cost more than other tooth replacement options, they have the potential to save you thousands of dollars over time. Dentures and dental bridges need to be replaced every 5-10 years, which can become quite expensive given enough time. On the other hand, dental implants have the potential to last a lifetime, which would save you a tremendous amount of money in replacements! Additionally, you won't need to buy any special cleaning products, and since dental implants promote a strong, healthy smile, you'll likely pay less for your annual oral healthcare costs as well.
Does My Dental Insurance Cover Dental Implants?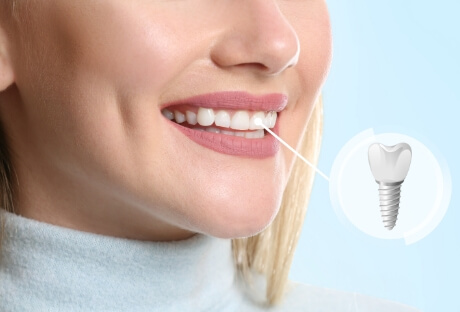 While most dental insurance plans don't cover dental implant treatment entirely, every policy is different. Our experienced team would be happy to review the details of your dental insurance agreement with you to ensure your benefits are being maximized. In many cases, percentages of treatment will be covered, such as the consultation, preliminary treatments, or the restoration.
Making Dental Implants Affordable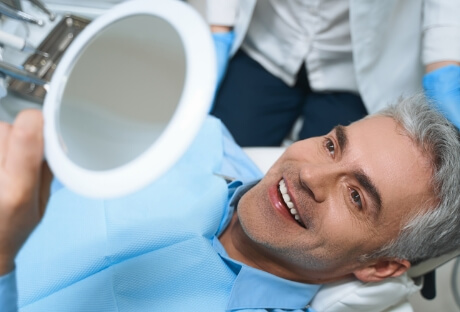 At Pasadena Family Dentistry, we firmly believe that dental implants are the best tooth loss solution available, which is why we offer ways to help make treatment more affordable, like:
Third-party financing: Third-party financing options are available through both CareCredit and Lending Club, which can break up the cost of your treatment into smaller, more manageable payments that fit into your monthly budget.
Our in-house dental savings plan: We are proud to offer our very own in-house dental savings plan, where a flat annual or monthly fee will cover all your basic preventive dental care and give you 15% off on other treatments, such as dental implants.
Dental Implant Frequently Asked Questions
You will invest in your smile when choosing a dental implant in Pasadena because it can last forever. Although dental implants are the more reliable solution to treat tooth loss, it is normal to have several questions about the procedure before committing to the treatment. We take the time to explain the process during your consultation. In the meantime, we have the answers to your top questions about the procedure to ensure you make the best choice for your smile.
How many dental implants will I need?
The number of dental implant posts you need varies depending on the restoration used to rebuild your smile. A single tooth replacement only requires one implant post, whereas, treating several missing teeth in a row needs an implant post at either end of the bridge. If you need full-mouth reconstruction, an average of four to six implant posts are used to secure your denture to your jawbone.
Can I get dental implants if I have periodontal disease?
The long-term success of your new smile relies on a healthy foundation. As a result, you cannot get dental implants if you have an active infection, but that does not mean you cannot get them later on. You will first need periodontal therapy to stop the infection. Depending on the extent of the damage caused by the bacteria, you may need additional procedures before placing your implant posts, such as bone grafting or tooth extractions.
Do dental implants fail?
Dental implants are the most successful solution to treat tooth loss. In fact, they have the potential to last for a lifetime if you care for them properly. Generally, the risk of implant failure is less than 5%. You can help to ensure your new smile lasts by maintaining your oral hygiene at home and visiting your dentist in Pasadena regularly for a cleaning and checkup.
Are dental implants worth the investment?
Initially, dental implants are more expensive upfront than other treatments, but they are more affordable long-term. They can last forever, so you never need to worry about paying to have them replaced. They can also lower your overall dental expenses. Since the posts stimulate your jawbone, any remaining teeth will have the support they need to stay in place. Stopping dental drift decreases your risk of tooth decay, gum disease, and additional tooth loss to prevent the need for costly treatments.
How can I pay for dental implants?
Most dental insurances will not cover the entire cost of the treatment, but your specific policy may pay for portions of the procedures until you reach your annual allowance. We work on your behalf with the insurance carrier to reduce the amount you need to pay. We accept a variety of payment options to cover any remaining balance, including third-party financing with CareCredit. We will help to find the solution you need to keep your new smile affordable.
If you still have questions about dental implants, a member of our team is only a phone call away. Contact our dental office today to learn more about dental implants.