Dental Crowns – Pasadena, TX
Enjoy Natural-Looking Results with Porcelain Crowns
Despite your best efforts, your teeth can be damaged over the years. If the problem is significant, like a large break or fracture, dental crowns in our Pasadena, TX dental office can restore your smile. We design and place white, custom dental crowns that look natural, feel terrific, and provide long-lasting protection. If you have a severely worn, badly decayed, or cracked tooth, we can reinstate the structural integrity you need to chew, speak, and smile with a dental crown.
Why Choose Pasadena Family Dentistry for Dental Crowns?
Metal-Free Options for Dental Crowns
Treatments and Financial Options Fully Explained
Dentists That Only Recommends What You Need
What is a Dental Crown?
Crowns are a common restorative dentistry treatment because they offer several benefits. They are custom crafted to cover the entire visible portion of a tooth down to the gumline. By doing so, it can provide a protective barrier against decay, safeguard a tooth from further injury, or even cover dark tooth discoloration.
Dr. Holmes, Dr. Revel, and Dr. Lowry create all-white crowns that blend in seamlessly with your natural teeth, so you don't need to worry about a dark metal crown causing an eyesore when you smile. Their natural appearance now makes them a common choice in cosmetic dentistry as well. Overall, they can improve the color, size, and shape of a tooth while also enhancing its health and structure.
How Can a Dental Crown Help Me?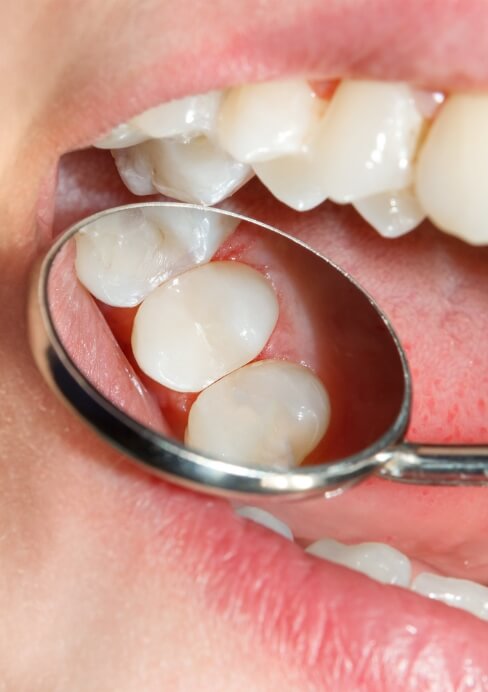 Although dental crowns are common, they are only recommended when there aren't any other suitable treatment options. We take the time to perform a comprehensive examination to determine if you need one. We may recommend a crown to:
Treat a large area of decay.
Fix a severely cracked or chipped tooth.
Protect a weakened tooth.
Cover dark tooth discoloration.
Support a dental bridge.
Safeguard a tooth after a root canal.
Stop atop a newly placed dental implant.
Improve the appearance of a tooth.
What Can I Expect?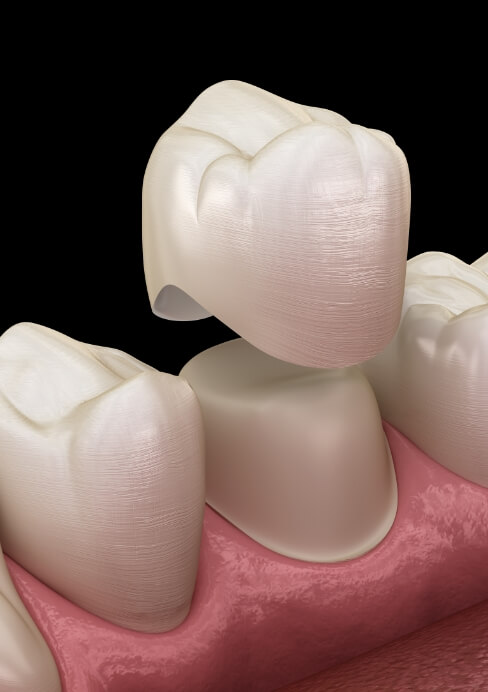 Typically, it takes two visits to receive your crown. During your first appointment, we prepare your tooth by removing some enamel from the chewing surface and sides. We will then take an impression to ensure the crown meets your specific needs. The impression is sent to the dental lab, where your permanent restoration is fabricated. This can take a couple of weeks, so we will attach a temporary one in the meantime. After it's ready, you'll re turn for your second appointment to have it bonded to your tooth.
How Long Do Dental Crowns Last?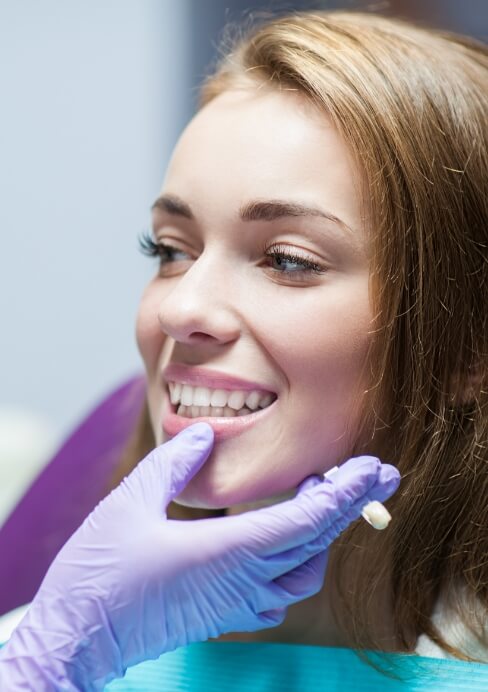 Making crowns from fine porcelain instead of metal doesn't compromise their durability. With the right aftercare, they last an average of 10 years before needing to be replaced, but it's not uncommon for them to last much longer. The lifespan of the crown depends on the amount of wear and tear it's exposed to, as well as your oral hygiene habits. To protect the longevity of your new crown, it is best to:
Brush your teeth twice a day and floss nightly.
Visit your dentist twice a year for a cleaning and checkup.
Avoid using your teeth as tools.
Avoid chewing on inedible objects or overly hard foods.