Dentures – Pasadena, TX
Replace Any Pattern of Tooth Loss
A complete smile is an essential element of long-term health. Missing teeth negatively impact your smile's appearance and can decrease quality of life — and many dental patients are surprised to learn that people with missing teeth don't live as long as those with a complete, healthy smile. To give you the strong, beautiful smile you deserve after tooth loss, call our dental office to schedule an appointment. Dr. Holmes, Dr. Revel, and Dr. Lowery design and fit natural-looking dentures at our Pasadena, TX dental office.
Why Choose Pasadena Family Dentistry for Dentures?
Partnered with Local Dental Implant Experts
Thorough Explanation of Treatment & Corresponding Cost
Friendly, Professional Staff
What Are Dentures?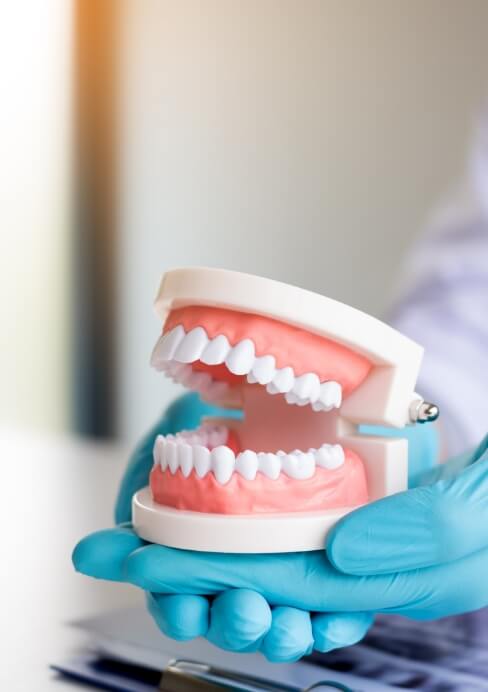 A denture is a replacement for missing teeth in the upper or lower jaw. Designed to look just like your natural smile, a denture is made out of ceramic or acrylic teeth set into a base with a metal frame covered in plastic that closely resembles your gum tissue.
Your Dentures Options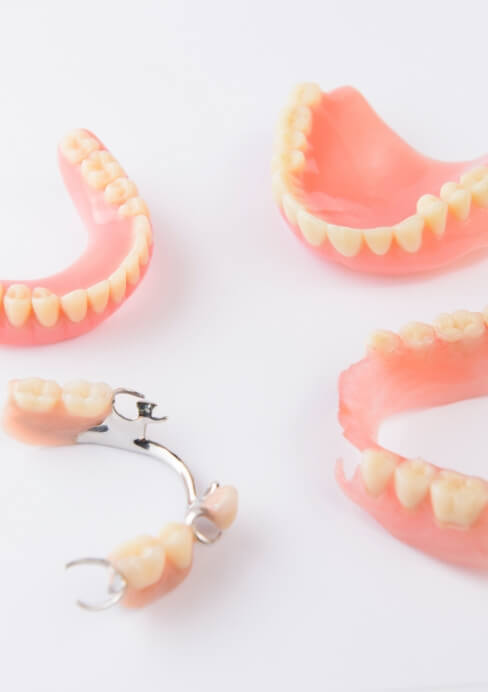 You have three main options in dentures, and the one that is right for you depends on the extent of your tooth loss, your budget, and the state of your oral and overall health.
Full dentures contain complete upper and/or lower rows of lifelike prosthetic teeth. The dentures we create look natural and enhance comfort and function. You will experience newfound freedom to smile, laugh, and speak with confidence with a full denture. Traditional dentures are held in place with natural suction and the help of an over-the-counter adhesive, as needed.
Implant-retained dentures eliminate the need for adhesive with the help of sturdy dental implants inserted in the jawbone. An oral surgeon will place the tiny titanium implants, and Dr. Holmes, Dr. Revel, or Dr. Lowery will attach a special fixture to your new or existing denture. The fixture snaps onto the implants to hold your replacement teeth firmly in place. Implant-retained dentures halt the bone loss associated with missing teeth and help patients enjoy all the benefits of a confident, long-lasting smile.
Partial dentures restore smiles that have gaps scattered among healthy teeth. Custom-made partials prevent existing teeth from drifting out of position, improve articulation, and help you eat what you like without difficulty. We use a special clasp to anchor your partial to healthy neighboring teeth or dental implants. You may qualify for a precision partial, which uses an inconspicuous attachment that fastens to teeth prepared with dental crowns.
Benefits of Dentures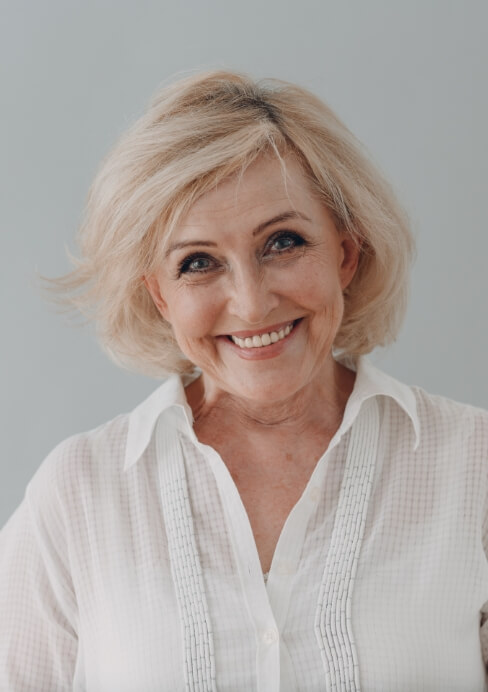 Dentures offer several significant benefits:
Regardless of which type of denture you choose, you can look forward to a beautiful smile. Each prosthesis is crafted with your specific needs in mind, and the result is a set of teeth that complements your facial structure and gives you a youthful smile.
Dentures enable you to eat a balanced, nutritious diet. With non-implant dentures, you might need to take certain precautions when you eat (for example, cutting your food into small pieces), but it shouldn't take you long to adjust to your new routine.
Dental insurance is often willing to cover at least part of the cost of dentures.
As long as your dentures fit well, they should be quite secure in your mouth. You won't need to be overly concerned that they'll slip out while you're eating or speaking.
Candidates for Dentures
The vast majority of individuals who have suffered significant tooth loss are candidates for dentures.
Candidates for full dentures have lost all or most of their teeth. If they have any remaining natural teeth, they may need to get them extracted. These individuals have healthy gums that will be able to support their new smile.
Ideal candidates for implant-retained dentures have a strong and thick jawbone, are free of gum disease and other serious oral health concerns, and do not smoke.
Candidates for partial dentures have suffered tooth loss at various places throughout the mouth and prefer dentures over bridges or other tooth replacement options.
Adjusting to Life With Dentures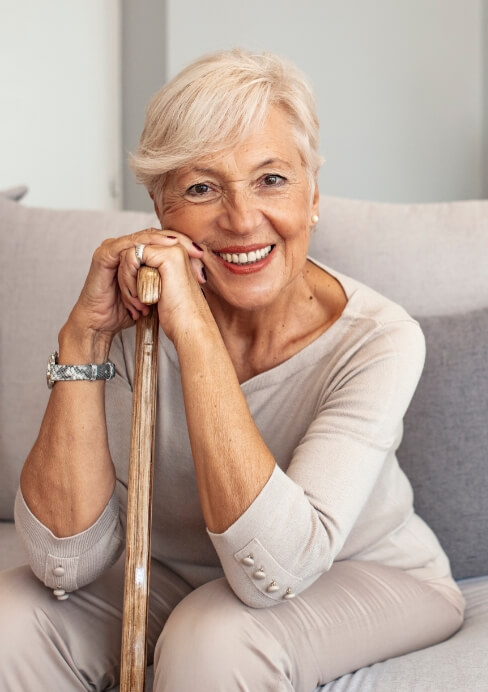 When you first receive your prosthesis, it might take you a few days to get used to it. Wear your denture as much as you can during this adjustment period so you can practice speaking and eating. You might want to stick to consuming soft foods for a time until you get the hang of chewing with your new teeth. Also, note that you might produce extra saliva at first; you can cope with this by sipping plenty of water and sucking on sugar-free candy to encourage regular swallowing.
Of course, if you run into any significant problems or you have any questions about how to get used to your dentures, feel free to call us — we're always happy to help!
Caring for Your Dentures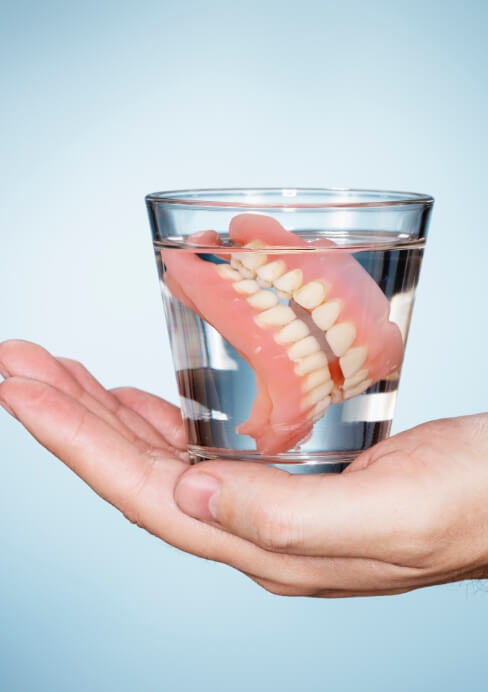 When you receive your denture, we will talk you through maintenance steps to ensure you care for your new teeth properly. Non-implant dentures will need to be replaced every five to seven years to ensure they continue to fit well. Dentures that are retained by dental implants require fewer adjustments and relines.
Clean your denture at least daily, and make sure you brush any remaining teeth as well as your gums, tongue, and soft tissues with a soft-bristled toothbrush to reduce bacteria build-up and keep your smile healthy.
Do not expose your denture to hot water; doing so could cause it to warp and lose its fit. Notify your dentist as soon as possible if your denture breaks, becomes loose, or if you notice oral sores.
The Cost of Dentures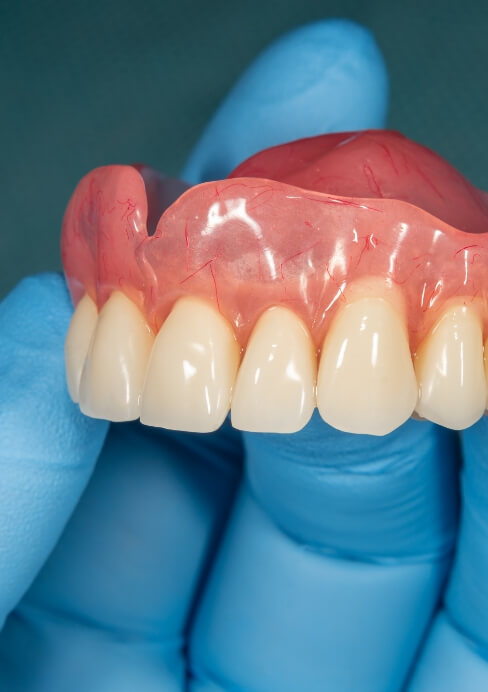 The cost of your dentures in Pasadena will depend on several factors, including the specific type of denture you are receiving as well as the material used to make the teeth. For example, a full set of dentures cost more than partials, implant-retained dentures cost more than non-implant dentures, and porcelain teeth come with a higher price than acrylic. On average, dentures tend to cost at least a few hundred dollars (implant-retained dentures may cost thousands). When you come to our dental office for your denture consultation, we'll crunch some numbers with you and work with your insurance company to help you fit your new smile into your budget.